THE BEST WEDDING RECEPTION STAGE DECORATIONS
To spice things up a beautiful stage for reception is must. Weddings are momentous for everyone and decoration on stage is a part of building memories. Here are some ideas to cherish your dream stage into reality.
Wedding reception stage can never go out of trend with floral decoration. Decor with chandeliers strings are commonly found in Indian Wedding. Stages of wedding reception are kept neutral by planners which looks attractive at night. Flowers Colors like pink, white and red are mostly used during stage decorations. You can design your reception stage more elegant by using fresh flowers at backdrop. Also, these stages are much budget oriented as cost of greens is pretty affordable in India.
Image Source:housing
COLOURFUL BACKDROP DECORATION
This choice of decoration on reception can bring your minimalistic yet charismatic imagination on the floor. Bright colors always bring positivity and are best for you as a couple for beginning a new phase. Colorful backdrops look elegant with efforts of efficient work force. Stages withcolorful backdrops are generally enhanced with color papers, artistic objects and lots of decorating fabrics.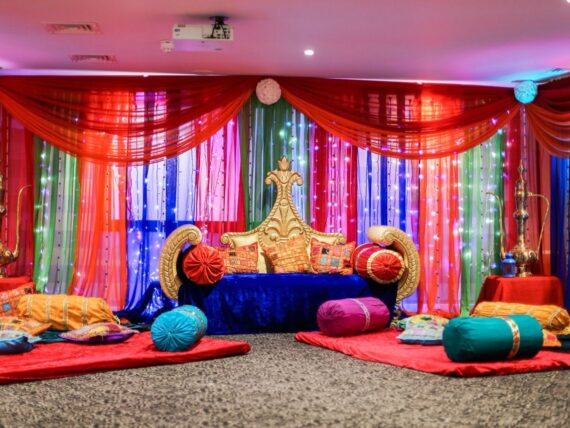 Image Source:pinterest
Decorating stage is an art and there are numerous objects available to enhance decoration at wedding venue. Drapes are one of them as they are not only in trend but also add a style in traditional weddings. You can go for neutral color drapes made with silk, burlap and satin. These fabrics are affordable and gain attraction of major guests. You can give a contrast look on your big day by using flowers and fairy lights with them to make them more beautiful.
Image Source:magicbricks