4 Reasons Why Digital Wedding Invitations Are Trending This Season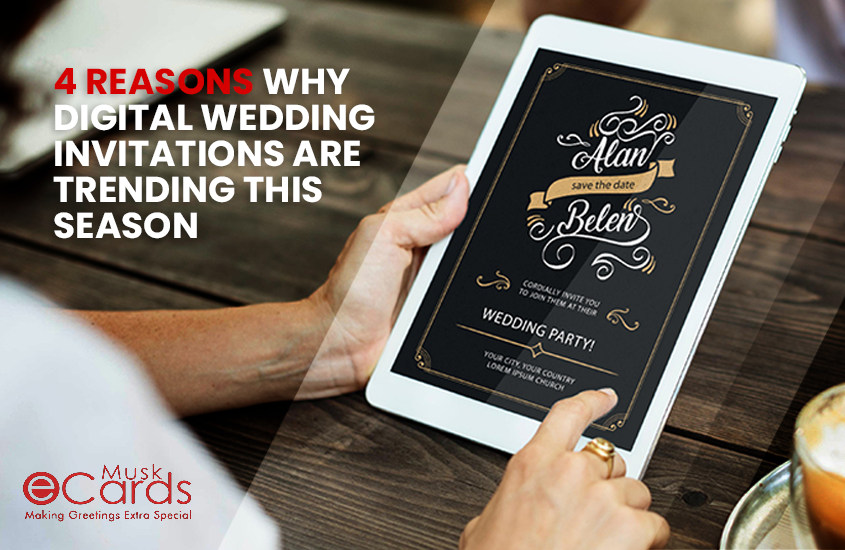 Weddings are the most auspicious moment of one's life and one must do everything in the perfect synchronous manner as it is once in a lifetime deal for most of us. One such thing is distributing your wedding invitations eCards by the hands of the family member or the groom as it strengthens the bonds of relations but now digital invitations are in trend for this season and hopefully for the coming ones too. So why is this happening all of a sudden?
Let's jump right into the reasons as to how digital wedding invitations are trending this season.
EASE IN DELIVERY
We all know how hectic it becomes to distribute invitations one by one and ticking off the people from the list of guests and the worst thing that happens is when you unintentionally tick off a person to whom you haven't deliver the invitation yet, hence there is more scope of forgetting to give the invitation to someone. So digital invitations come in handy as you just have to make a list and send it to all of them in one click.
ECO-FRIENDLY
It is extremely eco-friendly to use online digital wedding cards as there is no paper usage in digital delivery which all collaboratively aids to help our environment. A big fat Indian wedding is usually comprised of thousands of guests which have thousands of paper invitations, think about all those paper cards, not going to waste which not only reduces the carbon footprint but also starts an initiative which other families will follow.
RIGHT MOVE
We are all living in difficult times and this pandemic which we are all facing is on a global level and hence we need protective measures to deal with it in our day-to-day life. The digital invitation helps in that given motive as it is extremely easy to send and they can RSVP'd even quicker as your relatives and close friends can quickly tell about their conditions regarding their location and will they be able to come, making it quicker, faster and safer in these times.
COST-EFFECTIVE
Weddings are beautiful but are extremely costly for most of us. If not much, but some money can be easily saved by opting for the digital invitations for the weddings as it is the cost-effective option as you just have to finalize the design and not print thousands of cards, you just need one and that one digital card can be sent to everyone.
Hope this article of ours helps you make the right decision about the wedding. You can also check out the other blogs here on our website.
Read Our another New Blog Recent Heart-Throbbing Celebrity Wedding In Our City (Udaipur).