Marriage / Shaadi Muhurat 2021: Only 7 Months of Shehnai Will Echo, This year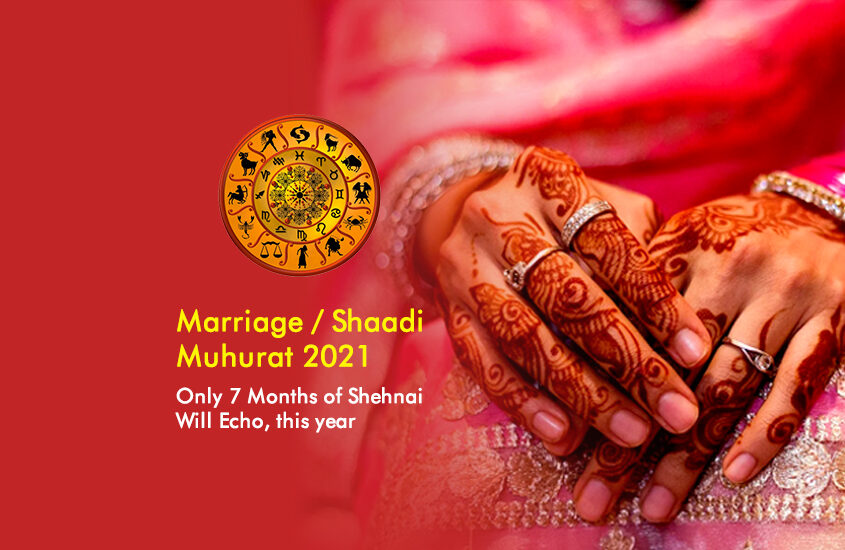 The year 2020 has passed rather quickly, due to Corona; the marriages have drastically reduced, in such a severe situation but today we know in which month and on which auspicious time to get married. Read carefully for the marriageable Jataka Muhurta 2021.
Home auspicious time of March:
The month of March is the time for the spring season and it is mildly cold but this season is a perfect time for an auspicious marriage, but there are no Muhurta in March this year. But if you think of home entrance then you can get home entry and worship the goddess laxmi, on March 8, March 9, March 14, March 20 and 21, and March 26.
Auspicious time for marriage in April:
If you are thinking of getting married then the month of April is more than good for this as 8 days are auspicious in this month, from 22 April and 24 April to 30 April, auspicious time is there, there will be no restriction of planets and constellation in this Muhurta and you can easily  be married to your partner.
Auspicious time of marriage in May:
If you are thinking of getting married in May, then there is no more auspicious day than Akshaya Tritiya, on May 14, Akshaya Tritiya is one of the best date to get married and you can easily get married on this day at any time, as well as in May 15 as it is also a very auspicious time and also other dates like 1, 2, 7, 8, 9, 13, 14, 21 to 26 and 28 to 30 May is auspicious. For a Manglik person, Akshaya Tritiya is the best auspicious time to get married, just keep this in mind.
Auspicious time of marriage in June:
The only auspicious time in the month of June  are these 9 days in June, 3, 4, 5, 16, 19, 20, 22, 23 and 24 June respectively as they are highly auspicious. If you are the elder son/daughter of the house then get married after this Muhurta of 21 June, because in the Jyeshtha month, the elder son or daughter does not get married according to the Hindu calendar, there is an obstacle over time.
Auspicious time of marriage in July:
In July, the auspicious time for marriage are only 5 days, if you have any planet and constellation on this day then you can get married, on 1, 2, 7, 13 and 15 July as these are the best dates that are highly auspicious as it is the Aushan month and If you marry on any day from these five days, it will be very auspicious.
Auspicious marriage and home entry in the months of August, September and October:
August, September and October, unfortunately there is no marriage mahurat in these three months. You can enter the home in these three months on August 6, August 16, August 20, September 17, September 20, September 22, September 29, 1 October, October 4, October 18, October 21 and October 26 as they are the auspicious days for home entry.
Auspicious time of marriage in November:
According to Hindu belief, there is no marriage ascendant after the month of Aashan, as at this time God is very busy in his daily routine, so the auspicious ascendant of marriage starts from the day of Tulsi marriage. This year, Tulsi Puja is on November 15, so anyone can marry on this day as the planets and constellations have no effect. 7 days of marriage are very auspicious in November; those auspicious days on November are on 15, 16, 20, 21, 28, 29 and 30 respectively.
Auspicious time of marriage in December:
December is a very cold month and in this winter season, it's a great mahurat for marriage, so if you are thinking of getting married this year, then 6 days in December is auspicious. You get married on December 1, 2, 6, 7, 11 and 13 as Marriage can be done in these auspicious times. Mars will be full for the people, for that, kindly offer water to the Sun and read Hanuman Chalisa side by side.